Safe-T-Shelter storm shelters have been protecting friends and families from stormy weather, flying debris and tornadoes for almost two decades. We have underground storm shelters and in-house safe rooms for individuals and families to safely protect 12 or less occupants. For the protection of larger groups such as a town or community, school, fire department, mobile home park or apartment complex, our community shelters are ideal. These safe rooms are an above-ground, handicap accessible, FEMA compliant shleter, custom-sized for severe weather protection for 20 to 500+ occupants.
Safe-T-Shelter manufactured underground fiberglass shelters from 1995-1999, when we introduced our newest underground rotationally molded and patented shelter, which we still produce today. It has withstood tornadoes, high winds, falling trees, flying debris and still protected the lives of everyone inside.
We soon realized there were large groups of critical emergency personnel – firemen, EMTs, and other First Responders that needed protection from weather related disasters. This is when we began to research and develop our large community shleters/safe rooms. Our first community shelter/safe room was designed and installed for a small Alabama town with the capacity to accommodate 64 people. While this community shelter is still being used today to protect the town's residents, we have installed our large community safe rooms as far north as Illinois, west to Oklahoma and south to the Gulf Coast. These shelters are prefabricated of 1/4″ steel plate and are delivered ready to install in sizes to accommodate 25 to 500+ people.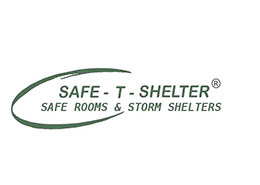 Safe-T-Shelter
1301 Industrial Drive, SE
Hartselle, AL 35640
Phone: (256) 462-3648
Fax: (256) 462-3649