Graphic Design · Websites
MY Designs Graphic Design and Illustration
MY Designs Graphic Design and Illustration offers professional, effective solutions to the challenges faced by most organizations today: getting the market's attention. With 30 years experience in design and illustration, including almost years of marketing, Monica Yother, owner of MY Designs, approaches each project with a design strategy to help you achieve your goals.
Whether you are starting out and need a complete branding package, or just need a refresh on your website, MY Designs has the experience and creativity to develop solutions that really work. Clients benefit from the technical know-how of a graphic designer, the artistic eye of an artist/illustrator, and the marketing experience of an entrepreneur. Monica is a huge fan of small business and truly enjoys working along side business owners to bring polished, professional branding materials to the table.
MY Designs Studio 114 is located on the first floor of Lowe Mill ARTS & Entertainment and is where she holds workshops on a wide range of useful topics geared towards businesses. New for 2017 is Workshop on Demand. You pick the topic and time, and benefit from a fully customized class that covers exactly what you need to know. Choose from WordPress, Adobe Photoshop, Adobe InDesign, Evernote, Graphic Design for Business, Blogging, Design Strategy and Social Media 101.
Contact Monica today or visit the website for more information and samples of recent work.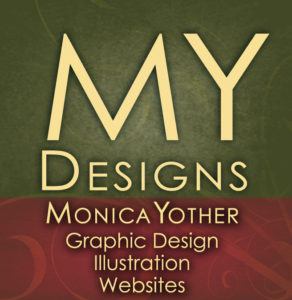 MY Designs Graphic Design & Illustration
Studio 114
Lowe Mill ARTS & Entertainmnet
2211 Seminole Drive
Huntsville, AL 35805
Phone: (256) 520-4134