Magazines
Inside Huntsville & Just for Women
Since 2000 Inside Huntsville has served as an economical and effective resource for connecting hundreds of thousands of visitors and residents to local businesses, services and area attractions.
The compact size of the magazine makes it easy to tuck into business promotional packets, re-location packets, conventions and event giveaways. It also fits nicely into purses and backpacks, making it easy for consumers to pick up and take with them.
Published quarterly, Inside Huntsville presents fresh, up-to-date information on What's New and What to Do in Huntsville and Madison County. And in between print issues, the weekly newsletter, Inside Huntsville Now, brings information right to the reader's inbox in a quick-to-read, colorful format. There's even a quick glimpse at Huntsville's history in the popular "Did You Know" section.
Inside Huntsville has a sister! The quarterly magazine, Just for Women. We know today's women are busy! So our writers-mostly local and who are highly regarded in their professions- share information relevant to our reader's lives in short, fun to read articles. Topics include Life and Style, Health, Home, Business and our newest department, Just for Kids.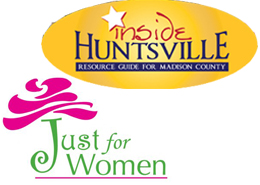 Inside Huntsville
Just for Women
117 Calhoun Street
Huntsville, AL 35801
Phone: (256) 783-1846