Mortgage Advisors
First Family Mortgage Company – Huntsville
We are not a bank. We have not been "bailed out" by the Government. We are not an "internet company" based out of New York or India. We are a locally owned and operated small business based out of Huntsville with satellite locations in Nashville and Birmingham.
Unlike the banks loan officers, each of our Mortgage Advisors are certified and licensed within both the State and Federal regulations. They attend formal training each year and must pass both State and Federal tests before being licensed. Each Advisor must pass a background check, a credit check, and provide an extensive work history along with finger prints that are submitted to the FBI.
Customer satisfaction is our business. We have won the #1 Best in Business Award back-to-back and have just received the Seal of Satisfaction Award for both Huntsville and Nashville. We don't operate like a bank. You don't need an appointment, money out of your pocket, or perfect credit. We're open before the banks are open and stay open well after they've closed. For your convenience our office is open Monday-Friday 7 AM to 6 PM and you can even make an appointment for a weekend visit. You don't need to take time away from your work to get a home loan with us. Let us show you how easy getting a home loan can be with 1st Family Mortgage. We want to be your Mortgage Advisor for life!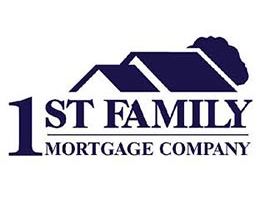 1st Family Mortgage Company
900-A Merchants Walk
Huntsville, AL 35801
Phone: (256) 425-0105
Fax: (256) 604-5890